JOE ELY
"Happy Songs From Rattlesnake Gulch"
"Silver City"
(Rack'em Records)
www.ely.com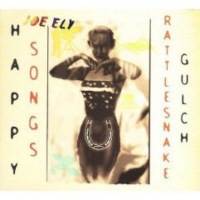 Joe Ely, one of the best rootsrockers on the planet, surprised us -very generously- with two new CD's! The first ones on his own new label Rack'em Records. In these days of tight-fisted labels and distributors -when it comes to copies for review- the generosity of a big name like the great Joe Ely and his representative is highly appreciated indeed... "Happy Songs From Rattlesnake Gulch" is a consistent rocking record in the full band approach. Joe's voice is strong as ever, with just that little touch of soul and a whole lot of compassion. He invited many of the marvellous musicians who've worked with him over the years, back into the studio. No less than sixteen. A basic five-piece band (two guitars, bass, drums and keys) plays on most tracks though, which means that the line-up changes all the time. What a cool concept! We hear wonderful guitarists like Rob Gjersoe, David Grissom and Bradley Kopp. Reese Wynans and Joel Guzman on keyboards, including accordion. Bassists Glen Fukunaga and Jimmy Pettit; Donald Lindley and Little Johnny Fader are the drummers, among others. Horns? Yes, horns on a few tracks too. And Joe plays guitar, keyboards and percussion himself.
A classic sound is created, with those seventies fade-outs ending almost every song and a lot of inventive interplay between electric guitars and keys. The songs are top-notch, like we're expecting when we see those Joe Ely credits. A simple melody with a spell-binding story or simple lyrics on a catchy melody, that's how it's basically done and how it should be done by others more often. Opener "Baby Needs A New Pair Of Shoes", a rocker featuring the horns, sets the mood immediately. Written in the wake of Hurricane Katrina, although it says "July sun", we get the picture: "All I wanna do is to get back home / Instead of wastin' away at this Superdome". Midtempo ballads, like "Hard Luck Saint" with its very strong chorus: "He lived more in an hour than most men in their lives / He never preached a sermon and an angel he ain't / But any one can tell you he's a Hard Luck Saint". And the intense storytelling in "Jesse Justice": "Jesse was a rovin' gambler / Nine ball was his game" and then the events unfold. In "Miss Bonnie And Mr. Clyde" Joe Ely even changes history in a very smart way! One cover: Butch Hancock's intelligent poetry in bluesy "Firewater", followed by steamy slow Southern "July Blues", David Grissom playing an awesome electric guitar...

"Up A Tree" is a remarkable song, infectious & catchy with its strong rhythm (drummer Little Johnny Fader), countryrock mixed with Western and Mexican (horns!) music. My absolute favorite is "Little Blossom" though, a gorgeous Cajun song, Joel Guzman playing the accordion: "They're dancing in Evangeline" and we feel like dancing too, especially after the tempo picks up, initialized by the good drummer here: Rafael Gayol. "River Fever" is the last track, Rob Gjersoe and Bradley Kopp duelling on electric guitars, there are two keyboards in use too! O.K., let me catch my breath first, I'm almost blown away here...




Then we go on to "Silver City", the companion CD. The picture of a young Joe Ely graces the cover. This is an acoustic record, featuring Joe (vocals, guitars, harmonica, percussion) and Joel Guzman, the accordionplayer extra-ordinare! It includes new recordings of songs that were written in Joe's early days on the road, many of which have never been released before. Of course we know titletrack "Silver City" that opens the disc, beautifully sung and played, truly magnificent. And that exciting story of the "Indian Cowboy" is my favorite Joe Ely-song! Did you know that he worked in the circus himself? "Santa Rosa / St. Augustine" has a simple, yet enchanting melody and Joel Guzman plays those wonderful accordion parts, it's like being lured across the Mexican border, slowly... Poignant historic tale "Wounded Knee", told like it only happened last year. "Cloister Mountain" has a bluegrassy feel, mountain music without mandolin and fiddle, but the harmonica does the job just as well! "Time For Travelin'" from 1978 is -indeed like a good trainsong- full of longing, melancholy and... the accordion. Same goes initially for "I Know Will Never Be Mine", where Joe sings harmony with himself and then we realize that this is the voice of a man, just having a dream in prison, the gallows waiting at dawn. Very smartly done. "Drivin' 'Cross Russia" sounds very much like Bruce Springsteen's famous car songs, like "Open All Night" for example -O.K., slightly slower- and features a funny surrealistic story, including a pet pig. Interesting for sure. And I always said Joe Ely was a Springsteen with soul in his voice! "Windy Windy Windy" is a fast short track and then the record ends on poetic, long Dylanesque story song about the fair: "Billy Boy". "No one wants to see when it comes to the end / The still ferris wheel when it quits spinning / No one wants to hear the sound's too intense / When the midway closes and leaves nothing but silence." Breathtaking. Art house movie...

You can tell if somebody's a good songwriter by closely listening to his songs in an acoustic setting: if they all start to sound the same it's no good. But if you keep hearing new things every time you listen, it's the real deal! And this intimate performance by Joe Ely proves once again that he is! The CD's complement Joe's new book "Bonfire Of Roadmaps"(I love that title!), a journal of "poem blogs" with stories taken from his 30+ years of life on the road, which was published this Spring by University of Texas Press. The book includes an audio CD and a number of Joe's illustrations, sketched during his travels. Interesting, not only for die-hard fans. By the way, Joe also designed the cover art of "Happy Songs From Rattlesnake Gulch" (I'm curious where that title came from!). And then there's only one thing left to say: This set of CD's goes highly recommended!

---
Written by Johanna J. Bodde, June 2007.
=====