THE HOWLIN' BROTHERS

'Howl'
(ReadyMade Records USA 2012 / Continental Record Services Europe 2014)

The Howlin' Brothers from Nashville, Tennessee are a three-piece acoustic band that brings heart and passion into every performance. Their upbeat, spirited, roots-based shows are heavy with original and traditional music, featuring the sounds of slide banjo, harmonica and old-time fiddle. Simply said, but they even manage to blow you away long distance with a couple of discs! As expected, they're not 'real' brothers but they have a strong bond as musical brothers. Let's introduce the gentlemen: Ben Plasse (upright bass, vocals), Ian Craft (fiddle, banjo, vocals), Jared Green (guitar, harmonica, vocals). Well, those are just their main instruments... Also a mandolin, some keys, even a penny whistle are played, they sometimes switch and of course, a few friends stop by during recording!

They all met in college up in Ithaca, NY and eventually migrated to Nashville, TN. They immersed themselves further in the Southern music they love and began to further hone their craft. Their first trio of albums was self-released: 'Tragic Mountain Songs' (2007), 'Long Hard Year' (2009), 'Baker St. Blues' (2011) and there is also a very limited edition compilation of live performances: 'Old Time All The Time' (2012). These previous releases have been sold exclusively at shows.
'Howl'
is their fourth album containing a dozen songs, released in the U.S.A. on the new ReadyMade label, owned by Brendan Benson, who also produced this album. (If the name sounds familiar: Brendan Benson is with Jack White one of The Raconteurs.) An old-time pickin' party and the wash tub bass led to the Brothers meeting Brendan, who later tapped them to perform on a Cory Chisel record he was producing, soon after Brendan and the guys teamed up to create 'Howl'.
-
"Big Time"
: This country blues opening track literally kicks off with a foot stomp: Jared's custom made dance board. Banjo riffs, impressive harmonica parts and co-writer Warren Haynes (Gov't Mule) also plays some great slide guitar. He says: "They are content to not worry with the current contemporary music scene and just build their own".
-
"Hermitage Hotstep"
: We are getting used to the question-and-answer type of singing for the solos and choruses. The three gentlemen share lead vocal duties on the various songs.
-
"Julia Belle Swain"
: A fiddle driven cover by John Hartford, energetic raw bluegrass.
-
"Gone"
: Here we actually get recollections of The Band! Yes, this track has drums too, the name of the enthusiastic drummer must be somewhere in Ian Craft's liner scribblings... Gregg Stocki, although he claims to have played drums himself too.
-
"Delta Queen"
: The brothers visit New Orleans for a tasteful jazzy Dixieland ragtime track. The horns etc. are nowhere credited though. The little fade-out is a radio DJ's nightmare, but I don't have to worry about that anymore!
-
"Tennessee Blues"
: Melancholy down tempo song, keys and moody vocals with a Tom Waits feel. Beautiful!
-
"My Dog Can't Bark"
: The Otis 'Big Smokey' Smothers cover, better known in the version of Muddy Waters. Blues with a frantic banjo and a whining harmonica, they just never want to stop anymore! With exactly four minutes the longest track on the record.
-
"Tell Me That You Love Me"
: This is my personal favorite on the record. The genuine urgency in the lead vocal, the echoing background vocals, the fiddle and the driving rhythm... Very impressive!
-
"Just Like You"
: A simple, effective bluegrass strut with a mandolin and a vocal nod to Louis Armstrong.
-
"Take This Hammer"
: This traditional makes you sit up and take notice. It sounds here like a work song indeed, "Mule Skinner Blues" was mentioned as an example.
-
"Boatman Dance"
: A nearly two centuries old minstrel song, written by Dan Emmett. Proper folk, very danceable indeed - with foot stomp and slapped bass plus lots of fiddle.
-
"Mama Don't You Tell Me"
: Sweet gospel chorus by yet another trio of friends, who stopped by. The unusual combination of organ and banjo works very well.
More than ten years of studying music, practicing, playing and hard work finally pay off. Their enthusiastic, spontaneous, improvised, energetic rock&roll kind of approach is very deceiving though. Yes, of course they have tons of fun - but every note serves the song, they play flawlessly and listen very well to each other. It is given much more thought than we expect upon a first hearing, they have everything under control! You need to love banjo - there's a banjo somewhere on literally every track. Sometimes also played by bassist Ben Plasse, while Ian Craft is the master on the slide banjo. The bass provides a solid foundation, while Ben's slapping technique makes up for the lack of drums on a few tracks. Yes, they sound like more people than just three! There actually were many more, just let Ian Craft explain that to us...


Long discussions can be held about the musical style. Blues, country, old-time and more in the most pure format, mixed in with elements of folk, swamp rock, ragtime, honky tonk. This can't really be labeled, but the few remaining record stores are known to be creative! Let's try a few comparisons: The Old Crow Medicine Show, Pokey LaFarge, The Carolina Chocolate Drops, C.W. Stoneking.


The rustic dark lay-out suits the music, I love that grayish blue color of the front. Pictures by Joshua Black Wilkins. The lettering, by Ian Craft himself, is very hard to read though, as I mentioned before. He also wrote some liner notes and confides that he served his band mates and guests undercooked chicken!


Although they're fast becoming famous, they still don't have any annoying attitude - they're still your friendly neighbors playing on the porch!
---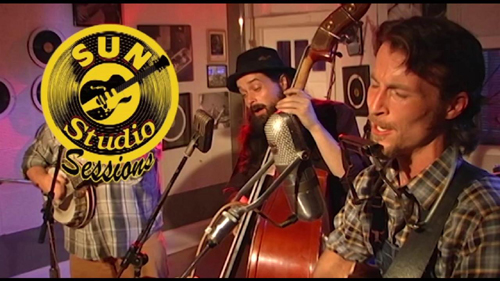 After the 'howling success' of 'Howl' in the U.S.A. (where it was released two years earlier than here in Europe),
the Howlin' Brothers have been busy in the studio and touring virtually non-stop. To wet the appetite of their fans for the new album 'Trouble', the band dropped a self-produced six song EP, recorded at the legendary

Sun Studio

in Memphis, Tennessee.
Sun Studio has seen the greats walk in to create history: Elvis, Johnny Cash, Roy Orbison, Jerry Lee Lewis and many more. The mystique of the studio is equal only to the ghosts in residence, whether real or imaginary. The Howlin' Brothers walked in and recorded their own set of songs. Ian Craft tells: "Sun Studios is magical. As soon as you enter the office, then the live room, it hits you. We definitely felt like we were becoming part of a lineage of musical folks from Howlin' Wolf to Carl Perkins to Elvis Presley."


They chose four original songs for the middle of the EP. "The four originals were written beforehand," Craft says. "We picked them because we thought they would simmer well in the Sun kitchen of tasty music. We all looked up classic Sun recordings and started to realize just how deep the musical legacy is at Sun. It's astounding the amount of hits that were recorded there."


Then they took an old favorite and Sun Studio treasure, "Dixie Fried" by Carl Perkins (a single on Sun Records in 1956), to open up the session. Making the classic their own in an upbeat, fresh feeling with the solid acoustic bass sounds and energetic picking on guitar and banjo, the vocal somewhat reminiscent of the original by Carl Perkins himself.

"Til I Find You"
creates a rousing urgency with the quick tempo, yearning vocals, the harmonica and of course the trademark banjo. "I cried like rain into the sea / The waves will wash her home to me". Another version of this song was included on the album 'Long Hard Year'.
"Troubled Waltz"
slows down considerably, full of melancholy and a dark hint of unidentified danger ahead. "Troubled in the morning / And I'm troubled at night". Great interaction between lead and backing vocals!
On
"Take Me Down"
the old-time trio launches, after the counting off, into a country blues song, all the while knowing exactly what to do for a great catchy sound! Many people consider this their favorite track on the EP.
Are we ready to dance on
"Charleston Chew"
? A fast paced bluegrass song with lots of fiddle. Apparently, during live shows Jared Green is dancing a quick step to the beat!
To end the session, the Howlin' Brothers reworked one of their own songs "Tennessee Blues" in a homage to the studio itself. It's quite different and also much longer than the version on 'Howl', only featuring Ian Craft's mournful vocal, bass, fiddle and... Jared Green playing the historically significant Sun Studio piano! Asked if the feel of the room affected their recording session, Craft replies, "That vibe for sure impacted how we played. The song "Tennessee Blues" has a real unique sway like a willow tree. Jared played the famous Sun piano, and I swear, you could feel more musicians coming out of sound tiles on the walls and ceiling. It sure felt good. No AC, just like the old days," says Craft. "That helped get a sweltering-hot-Memphis-in-June feel to it all." The legendary Sam Phillips should have been around still, to offer them a contract!


According to the trio, demonstrating their natural affinity for this style, they have made a life out of reclaiming traditional American music for a new generation of roots music fans.


-----
Written & compiled by

Johanna J. Bodde

- September 15th, 2014. Thank you - John Porter at Mood Indigo Entertainment for the discs & the info!