HALF KNOTS
"Color Them Blue"
(Self-Released)
"In the mid 1990s a closely-knit St. Louis music community brought together a collective of talented musicians rendering such bands as Wagon and Nadine. Danny Kathriner, Chris Peterson (both of Wagon) and Todd Schnitzer (formerly of Nadine) have worked together since the inception of these bands and have now joined in a refined effort called Half Knots.

Danny and Todd began to collaborate musically after Todd co-engineered and co-produced Wagon's first release "Soon" in 1993. He also co-engineered and co-produced Wagon's fourth album "Beauty Angel Queen" in 1999. Todd co-founded Nadine in 1997 and has since worked on a variety of musical projects that have brought him international acclaim for production and performance. Wagon's releases received critical praise across the U.S.A. and Europe.While Wagon's personal lives have put restraints on touring and recordings, Danny has kept with his prolific songwriting pace.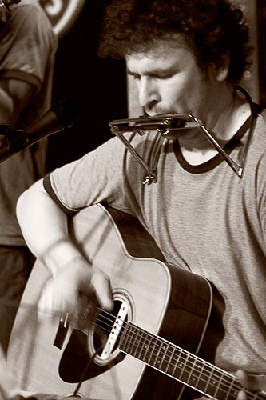 In late 2000 he pitched the idea to put a collection of his songs together as a side-project, Chris and Todd enthusiastically agreed. Chris began making frequent trips from Austin to St. Louis and thus their creative process began. Recorded mostly in Todd's basement studio in St. Louis, this collection of songs is often ambient and melancholy and yet at times purely driving. Danny's introspective lyrics weave effortlessly in rich layers of musical instruments. Simply put, this is a smart and most impressive first release by three friends from way back. This is Half Knots. Enjoy."
Now we know where this simple but good-looking digipack originates from. Wagon and Nadine, I heard some of their songs scattered across compilations and I liked them. Half Knots -trio of multi-instrumentalists- is off to a promising start! "You See A World", the gorgeous sound of a piano and a resophonic slide guitar right from the beginning, followed by the wonderful, sensitive and emotion-filled voice of Danny Kathriner: "You follow your card, you write something new / You open the floodgates now, you're saving your notes / And color them blue." The sound gets fuller with a variety of instruments, from glockenspiel to trumpet (Kullen Fuchs) and mandolin (Sarah Jarosz). The music rolls in like waves, "You're reading a line, that I wrote for you / When I had more reason and time", then ending quietly again. "Do What You Want" has more influences from rock and pop, featuring electric guitar, drums and harmony vocals. "You gave me nothing except a moment in my life", Danny's voice keeps speaking to our soul. And can't we all relate to this? "I can't believe / She was the object of my obsession for so long / Lesson learned / You can have anything except what you want... too bad." Pretty song "Footsteps" starts off with acoustic guitar and percussion, like shakers and glockenspiel. Then it builds up: "Heard you calling for a while / You never answered me, I'm behind you / I can't find you." A violin is trying to keep up with Danny, using his full vocal range up to his falsetto. "If you follow my footsteps / And you think they've disappeared / I'm not gone... I'm just behind you." I love this poetry! No time to take a breath, vocal and acoustic guitars enter on the first second of "Sinking In". Perfect showcase for the beautiful timbre in Danny's voice: "Cold and tired and not too inspired to do anything productive now", the talented writer speaks. Rhythmic, with the banjo and more instruments, the arrangement is building up again, wonderful solo halfway, going uptempo and even more intense: "I used up all the ammo on things that really don't matter now / And I should have saved at least one bullet for the head." The end repeats the same line: "I suspect every single good thing is found hollow inside." The variety of these songs keep the expectations high. "Balance" begins and ends on feedback, there's a keyboard in this slow, sad song, where the banjo plays bravely in front of a whole orchestra. "Paper slammed / Against the door / I raised my head / From the floor / Headline read: She's Really Gone / Love Is Dead, Who Will Carry On? / With no regard / I put the paper down / With Sunday's blue / Emptiness around." The order of the tracks is a bit mixed up here, but it's easy to figure out that the short instrumental is called "Hendersonville". Subtle drumming and the acoustic guitar is being followed like a shadow...
The second part of the CD starts off with sturdy, uptempo rocker "Do Something". Lots of drums and electric guitar, some lines inbetween adorned with strings, then enthusiastically picking up steam again: "Expect nothing / And you'll get something, get something". Yet another line to remember and how about this one: "Take in the sun because it's only here all day / And once it's gone we'll want it back... want it back". Definitely not bad, Danny does well in louder stuff too, but I like it better introvert! Piano & strings song "Girl, Don't Act Like The One" has a very complicated melody, there's a hint of an echo and harmonies and a strong solo. "I crossed too soon on the riverboat of reverie / I paid with my heartstrings / Now it's taking its toll on me." Intriguing and spell-binding... "When Are You Going Home?" counts off like a little acoustic countrysong, mandola, banjo, some keys. Lyrics with a wink, about a never-leaving girlfriend: "I can't believe you never find time to leave / When are you going home?", so it ends in a logical way: "Can we make it clear you're gonna stay another year / When are you leaving home?" Again: Danny does well in the more light-hearted stuff too, but I like the 'deep' subjects better! Prize-track is "Save The Light", my favorite instrument the pedal steel (played by guest musician John Higgins) and the piano fade in, together with the vocal. It's slow and sad and even epic and it has a religious touch. "Save the light that you can / There may come a darkened holy sea / Coming just as I am / Asking Jesus to wait for me." And this line is incredible: "Gone is the faith I once had / Have I lived too long?" After this highlight the album ends with instrumental "Austin", another awesome composition and arrangement, where the harmonica takes the place of the voice. Now I need to get down to Earth again...
I can only make a list of qualities for the advanced music lovers here. It's a breathtakingly beautiful alt.country at its best album!! The production (recording, engineering, mixing & mastering) is flawless, I wish all the records of talented independent musicians could sound like this... The tracks are all of the right length, no stretching out, a 'miniature' can be magnificent too. The poetry, existentialist and dark and melancholy most of the time, still is the hammer that hits the proverbial nail right on the head. I came across many lines I wish I had written... And then there's the rich tapestry of music and the fine selection of instruments, almost all of them played by the Half Knots themselves. The compositions wouldn't feel lost between complicated classical work, with the very smart, well-balanced arrangements. And all of that was done in a basement?? One more time, from this side too: "This is Half Knots. Enjoy."
---
Written by Johanna J. Bodde, June 2008.
=====