G.R. HARRISON
talks about
"Gold, Love or Trust"
(Inbetweens Records)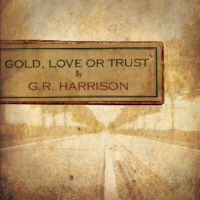 "Gold, Love or Trust" the title track of my debut album does not beat around the bush: What do you stand for in life? Not a simple question though.


Along with ten other songs I present myself as a singer songwriter to a bigger audience. I choose no fancy mix and mastering, just a pure and honest sound –produced by Bart Jan Baartmans-, that fitted my approach of these songs and simplicity in the lyrics.


I write my songs mostly in the spur of the moment and the emotions that go along with it. I have been writing since I started to play the guitar at the age of thirteen, but it just never came to producing an album. Also, I must admit, it is not since the last five or six years that I feel I can manage my writing process to an extend that this writing actually results to songs. I guess I will leave it up to others to judge that.
If not solo as G.R. Harrison, you will find me as a singer / guitar player with bands like The Wild Specialties and The Royal Axe Specialties. Before I was a member of The Electrophonics, T-Bird Rhythm and Texan Tail. It therefore is not a surprise that you find names like Bas Janssen, Harald Moonen and Izzy Watson in the musicians line up of this album.
Now, I will –like I sometimes do in my solo shows as well- tell you a bit more about the songs on this album and/or on the writing process of them.
100 Miles
At one point, this was the distance between my love and my home, meanwhile reduced to zero. So, it was more than worth writing the song.
Doc Jag
An imaginary person (a doctor) living in a real house along the highway of the afore mentioned 100 Miles, conducting strange ways and methods that reveal his true inside. The moral of this story? A man is not what he drives but what drives him. By the way, I sold my Jaguar XJ type 3.4…..
I Cannot Believe
…her world has changed overnight, which actually happened, leaving me in despair. It also left me with the inspiration of this song.
The result of a 30 minute train ride staring at a beautiful woman. Does she know she made it to a record?