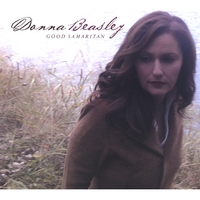 Donna Beasley, a new name on the Alt.Country scene. She lives in Nashville now, but was born and raised in Sevierville, Tennessee, the foothills of the Great Smoky Mountains National Park. Her parents were originally from the Blue Ridge Mountains of Virginia, her mother comes from a family of bluegrass guitar pickers and fiddlers, her father liked the traditional country music and her older brothers were into rock&roll plus rhythm&blues. Besides all that, there were the influences from her Fundamental Baptist background, in her teens Donna often sang in churches and tent revivals. A few names are dropped in the bio, well, I'm done with the Emmylou comparisons and Donna's voice is not as razor sharp as Alison's. Neko Case, yes, that comes closer.

The interesting arrangements on debut "Good Samaritan", drums, bass, electric guitars and various other instruments seem to be in contrast with Donna's pure voice, one would expect acoustic instruments only. It's the same intriguing contrast we see in the pictures: a classy lady in brandname clothes, hair and make-up just perfect, sitting with mud on her knees amidst the wild nature of Nashville's Shelby Park!

The title track opens the album with a slightly religious flavor: "Don't crucify me / 'Cause I will not rise again / I am not your Savior / I'm just a good Samaritan." Only drums & percussion at first, then bass and later the guitars enter. Donna has an amazing vocal range, "a voice that goes from a whisper to a wail", well, if you sing at tent revivals, you must have something good to offer. Maybe she also took some singing lessons, she has a perfect diction. The second track "Cotton" ("Them who pick it / Them who weave it / Write lyrics for the blues") is yet completely different with the odd combination of pedalsteel guitar and the East-European sound of the accordion, it works out so incredibly well! "Lost his hand in the belly of a loom / He laid it on the altar / Of a big boss man who signs the checks / Of nameless sons and fathers." "No One Here By That Name" is the country song about lost love, with great acoustic guitar, fiddle and plaintive vocal, that should win many Awards... "He used to answer to "Darlin" / But I called today and no one came / Now it's a word that means nothing / 'Cause there's no one here by that name." "I'm So Glad I Let You Love Me" is another catchy country song, uptempo with fiddle. Co-written with Elizabeth Cook who also sings the duet vocal. The McCarters -Jennifer, Lisa & Teresa- sing with Donna on rather slow (in contradiction with the title) "Run The Roads", mandolin featured, addressed to an overly concerned mother: "I've got to live my life / I've got to run the roads" and she makes a good point: "You've seen a lot / Sometimes I think too much / But I've not seen enough." And this is another one: "There's a reason they call it falling in love", from "There's A Reason", but there she drifts off too much into mainstream Nashville.



Then I like it better when Donna does the country-pop thing, like in "No Yesterday", with keyboards and lots of convincing feelings in the vocal and basically in the lyrics: "My heart's been burned till it can't be recognized / And yours is charred like stone", followed by the key line: "Let's love like there's no yesterday." "After Dark" shifts even further towards pop, featuring a Hammond B3 and a Minimoog, but it's more interesting than a couple of the country songs. I've rarely heard an affair being confessed in such a wonderful, seductive tone: "You won't see me in the daylight / You tell me it's not the right time / To see me in the daylight / So you meet me after dark..." "I'm the one you didn't plan on / An inconvenient passion / While someone at home waits alone / The sun goes down on us." "City Of Devils" is based on the biblical theme of Sodom and Gomorrah, quite ominous with the screaming electric rockguitar work: "They'll eat your soul to feed their power / And there's more like you coming by the hour."

Although Donna is a very good -and I mean very good- songwriter, melody as well as lyrics, she chose to include two covers. "Love My Way", in a jazzy pop feel and rhythmic "We Live For Love", where her voice leans too much towards Alison Krauss and the plucked dulcimer is sadly drowned by fiddle and pedal steel. Too bad, ever since I saw a street musician in New York City play a dulcimer, I luv that instrument! The album ends with "Tying Knots In The Air", beautiful title for a beautiful sensitive song featuring acoustic guitar and organ, about -I'm just guessing- a grandmother dying of Alzheimers: "Tying knots in the air / In the cotton mills of your mind" and positive "Rise Above", that starts off with cool typifying: "They call her "Smiley" like you'd call a big man "Tiny" / They call him "Loser" like they think it suits him", just accompanied by dobro and acoustic guitar: "Now two hold hands and form a winner's circle / Lifted up to rise above."

Various daring combinations, that can turn out quite horrible, but they work very well for Donna Beasley. Her beautiful, strong voice, with the flawless playing and production (Tom Spaulding) as a bonus, holds it together, while Donna skips through styles!

---
Written by Johanna J. Bodde, June 2007.
=====