ANDY GORWELL
"City Walls" (AG Music)
Andy Gorwell from Melbourne, Australia, has a deep passion for the obscure. We need to keep that in the back of our minds, while listening to his latest album "City Walls". From the simple looks of the black & white inlay, possibly made on an office copier, to the intentionally sloppy cut-off fade-outs, Andy flirts with the obscure. And totally succeeds pulling us into his own fascinating world!
His bio introduces him: "A musician / singer-songwriter, who for many years has been playing sporadically in ever changing incarnations in and around the city of Melbourne. From the smoke filled bars of St Kilda's Esplanade Hotel to the quaint environs of Fitzroy's Empress Hotel, he has continued to make and play music capricious in nature but never transgressing his beloved and hard sell roots genre. Incorporating blues, countryrock and folk, drawing on influences from the sixties and seventies countryblues era, his songs tell tales of hardship, heartache and disappointment to joy, love and self-complacency.

Beginning as a solo artist and playing for many years around the local traps he quickly forged friendships and jammed with many local Melbourne singer-songwriters and musicians who shared the same passion for the obscure. He has played and shared the stage with many artists as diverse as the relatively unknown to some of the heavyweights of the industry. His recordings have garnered airplay across the country and overseas on community radio as well as received favourable reviews in the street press and music magazines.

Undeterred by the inherent fickle nature of the music business, which leaves many musicians disenchanted, Gorwell remains resilient and as passionate as ever continuing to write, record and perform music. His latest album "City Walls" is the first in almost six years - he made "Uprooted" in 2002, followed by a demo and an EP. It marks a new chapter in Andy's musical journey, which sees him push boundaries and broaden musical horizons. He plays besides the guitars, lap steel, piano and harmonica. Helped out by some of Melbourne's finest musicians including Peter Pascotto on drums, bassist Paul Rawlinson, Nicolas Lyon on violin, Michael Hubbard (lap steel, dobro) and Brendan Mitchell on pedal steel, Andy has put together a finely crafted and musically diverse second offering that should no doubt find an appreciative audience and please even the staunchest of critics."
Well, I like to think of myself as a friendly critic. And I'm most certainly pleased with this album! The opener is called "The Road Of Lost Souls", that could have been a great title for the CD too. A long intro, fabulous acoustic and electric guitars, midtempo countryrock with a Rolling Stones touch, it sets the tone immediately. "Just as long as those grinding wheels keep churning on / A little less closer to the danger zone / Out on the road of lost souls / I've seen them come and I've seen them go / I've seen them running fast down a losing track / Bound for desperation row / Out on the road of lost souls." And then for something totally different: track two "Out On The Shoulder". It starts off sounding like a long lost old recording, that was found back in an attic. Five minutes plus, the longest track on the CD. A slow sung blues on a bed of electric guitars, with a collection of solos in the middle. "It's a living hell over which you preside / It's no imagination or a figment of your mind / You find yourself running to the borderline / You know it's gonna get you dead or alive... dead or alive / It's a loaded dice it's a crying shame / Only a few taste the honey the rest take the blame / Gotta know the tricks how to play the game / Never leaving it to chance, not the hand of fate / You find yourself running to the borderline / You know it gonna get you dead or alive... dead or alive / Out on the shoulder... out on the shoulder." It can be a scene from a horror movie but just as well a documentary about illegal immigrants! "Down Beat Blues" also has an 'old' beginning. Andy sings here closer into the microphone, he has a fascinating somewhat raspy voice and is very good at getting his emotions across. Slow countryblues, featuring acoustic guitar, piano and harmonica. It's clear what happened: "Yeah I'm feeling so low down / Just like the daily news / Yeah I squandered all my money / And a love that was true." Title track "City Walls" turns out to be an uptempo, enthusiastic little bluesrocker with harmonica playing and pessimistic lyrics: "I'm alone again baby, I'm on my own / Getting stoned again staring at the wall / Stranded out on the highway / Standing at the crossroads / I'm alone again / Behind these city walls." But "Be My Little Queeny" (one of Andy's own favorites) definitely has optimistic lyrics! "Excuse me for the cliché." It's an absolute fun Rolling Stones-rocker, piano, harmonica and Andy doing his best Mick Jagger imitation... It is followed by the surprising choice of slow ballad "Hold On", starting off like some sort of crooner song: "When you find / Find yourself standing in the driving rain / Hold on", electric guitars and piano building up into folk pop, Andy sounding like a raggedy Iain Matthews or Jackson Browne who woke up that morning early, in the gutter. Ah, I get it: tongue-in-cheek.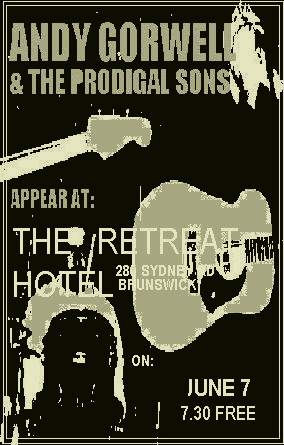 The Steve Earle cover "Long Lonesome Highway" received a semi-acoustic treatment, acoustic guitar, pots & pans drumming and then everybody else joining in, but keeping the bluesy, countryish feeling throughout. "I want to start all over new / But I can't lose these lonesome highway blues / Down that long, lonesome highway just as far as I can go / 'Til I outrun your memory." This fits very well between Andy's own songs! He does his Jagger-thing again in slow sad sounding ballad "Let A Part Of You Down". "There's a ship sailing by / A cold wind fills her sails / Warning of troubled times / I patiently wait for your belated reply." I could have written that last line myself and I love the lapsteel and dobro, the guitar solo and that self-willed harmony. "Drifting Away From You", according to Andy the strongest song on the CD, features the unlikely combination of piano and a beautiful spacy pedal steel guitar. Is this a microphone effect or was it just an old-fashioned microphone? A country song in Gram Parsons style. A little more realistic than he was: "Don't go searching for dreams in a one horse town / You'll only wind up crawlin' across the ground." Impressive and way too short!! If Gram and Mick had written something together, it could have sounded somewhat like "Those Tears". Rather uptempo, rattling, countryish, making good use of drums, dobro and lapsteel. But the inventive story is from 1991 and the main character is a modern day Emmylou: "Singing songs of heartache and misery / About oppressive leaders and imperialist regimes / Angel of the morning, moonlight mystery / She cried those tears of no depression to me." The song I chose first for airplay in my radioshow was "The Alluring Darkness". A gorgeous ballad, piano and heavenly strings. "Ever since I was a young boy / Wasn't really sure which road to take / Trying to burn every bridge that I had come to / There were many choices I had to make / Found it hard to see the way they wanted me to see / I was blinded... by the darkness of the night." I bet many readers here still remember that time! "Farther On" has a beautiful arrangement too, is that the vintage microphone again? And there's more about darkness in the lyrics: "Well, I'm floating through the darkness / On this magic carpet ride / There's nothing to fear / But the truth lies farther on." I want more time to enjoy this than two minutes plus... Andy's vocal makes me think of Rod Stewart here. And then "Street Wise" as the perfect closer, a little rocker fitting the title, on a steady beat with a constantly crying harmonica in the background. The bitter words remind me of an early Springsteen: "Hey everybody there's too much trouble on the streets tonight / There's too much blood being spilt on the streets tonight" and I agree with the conclusion: "Justice is blind / Gonna have to be street wise". By the way, this was a good selection and order of the various songs!
Andy's songs tell tales, not only in the lyrics, even more in the music! I know that some people will think "Big questionmark?" when they first hear this obscure record, raw and unpolished, sounding like it was made in the basement, with the mushy retro production and just as primitive mix. But I'm begging you to listen and listen again if necessary, until this feeling gets you, there's no escaping from the real emotion and "City Walls" will definitely become one of your favorite CD's!
---
Written by Johanna J. Bodde, May 2008.
=====