And now for something different and delicious... Amanda
Homi's
new album is a celebration of her affinity for music and dance from around the world. She is an energetic singer with a crystal clear voice, songwriter, percussionist and dancer. She is based in New York City now, but she was born in London of English and Indian descent. The daughter of an actress and a physician, Amanda grew up singing as a child and dreaming of travel. She fell in love with languages and began her musical travel adventures at the age of eighteen. She has since studied dance and percussion in Brazil and Senegal, sung
Rembetika
in Greece, Gypsy Flamenco in Spain, filmed a documentary about singer Toto La
Momposina
in Colombia, wrote and recorded Reggae in Jamaica and recently performed her music in
Agadir
with Moroccan musicians.
Amanda
Homi's
first album 'Drumgirls' was released in 2004. She is also a studio session singer, she has performed and/or recorded with well-known names like Jackson Browne, Ray
Lamontagne
, Mavis Staples, They Might Be Giants, Grover Washington Jr., Pete
Seeger
, Toots
Thielemans
, Jane
Siberry
, among others. She wrote the theme to the popular TV show 'Bridezillas' and she sang on many national commercials.
The new CD is produced by Graham Hawthorne, who also worked with David
Byrne
, Paul Simon and Suzanne Vega. Amanda's musical and spiritual travels are deeply explored in this song collection. Her music effortlessly crosses genres: world, roots, classic, funk, folk, pop - as the characters of her songs travel from New York City to Greece, Italy, India, Colombia, Egypt and Spain, not necessarily in that order... As Hans Werksman wrote: "Amanda is like a kid in a candy store, sampling the musical goods and finally deciding she wants it all!" Eye candy is also included for the music lovers: this
digipack
looks beautiful with pictures of gorgeous Amanda.
The album features Amanda
Homi
on lead and background vocals. Names mentioned in comparison: Annie
Lennox
, Carly Simon, Joni Mitchell, Sally Oldfield and even
Lene
Lovich
. She also plays
zills
and harmonium, accompanied by a remarkable cast of musicians and a rich palette of instruments from all over the globe. Graham Hawthorne brings his vast knowledge of world music to the project as the producer, arranger, drummer and percussionist. Ara
Dinkjian
(
Eleftheria
Arvanataki
,
Sezen
Aksu
) is featured on
oud
,
cumbus
and
cura
saz
, Jon
Albrink
(guitar and vocals) and Gary
Schreiner
(keyboards, accordion, harmonicas). Paul Frazier (bass, backing vocals) and Joey
Cardello
(percussion) round out the rhythm section. Guest musicians include Todd
Isler
(
kanjira
),
Carlinhos
Avaco
Almeida
(
cavaquinho
), Megan Gould (violin,
baglamas
), Robert Muller (tabla), Joy Askew (backing vocals),
Guilherme
Monteiro
and
Spiros
Exaras
(nylon string guitars), John
Ragusa
, Steve Kenyon and Charles Pillow (flutes and woodwinds).
A pleasant surprise: Eugene
Ruffolo
, a familiar face in Western Europe after quite a few tours, adds backing vocals and plays the part of the 'cranky old man' in "
Ladri
Di
Biciclette
", a song he also co-wrote.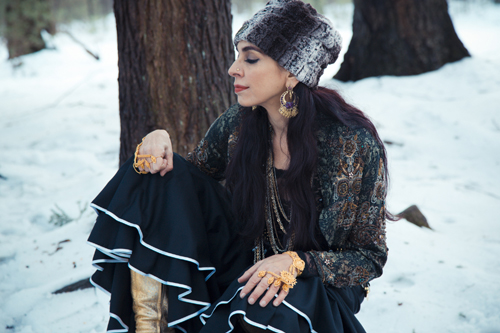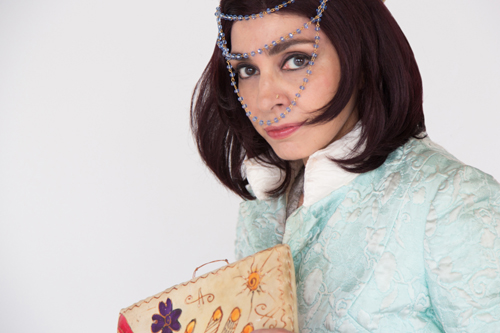 Let's spin the disc...
-
"Dancing Girls"
. After seeing images of women dancing in protest as part of the Arab Spring, Amanda was reminded of a visit to Cairo as a young woman where she heard the wonderful music of
Oum
Kalthoum
,
Warda
and
Fairuz
. She co-wrote this song with
oud
master Ara
Dinkjian
as an inspiring message for women to peacefully change the world.
-
"Samba Feliz"
. This classy pop-infused song brings a tropical Latin medley to life.
-
"Shoes"
. Yes, an
irresistible
festive song about Amanda's collection of shoes! With a great role for the cheerful accordion...
-
"Lorca's Desire"
. This song, with its haunting Afro-Peruvian rhythm, captures a time in the Spanish poet Federico
García
Lorca's
life in New York City, 1929. He walks around Manhattan wrestling with his deepest longings and fears. Written from the imagined point of view of
Lorca
, Amanda
Homi
begins and ends the track by echoing
Lorca's
thoughts with a stanza from his poem 'Ditty of First Desire':
"In the green morning
I wanted to be a heart
And in the ripe evening
I wanted to be a nightingale."

-
"Till I Reach Bombay"
. On the title track, set to a
Bhangra
beat, Amanda tries to heal her broken heart by cycling across the Hudson, through New Jersey over the Atlantic, eventually landing in Bombay (
Mumbai
), the birthplace of her grandfather. "I realize this was a bit convoluted geographically, but in my head it all made sense", says Amanda.
-
"Senseless"
. A poetic love ballad. "I'm deaf / to the clanging of the warning bells / I'm weak and defenseless / You left me senseless." Beautifully build up by the bass and the
oud
.
-
"Cards Coins & Chaos"
. A fantastical tune inspired by Emir
Kusturica
and Tony
Gatlif
films and by
Taref
de
Haidouks
, Goran
Bregovic
and Greek Gypsy songs. It is filled with colorful characters and the inevitable chaotic wedding scene. Amanda says: "I am a self-proclaimed 'Romabee'! Being fascinated and in love with all things related to
Romani
or more widely and less politically correctly known as Gypsy culture". The section sung by the Gypsy Chicks was written using translations from one of Amanda's
Romani
dictionaries. "I hope this is really what it means and that I did not accidentally offend anyone."
-
"Kaisariani"
. Telling the nostalgic tale of Amanda's time spent in Greece as an eighteen year old, living in the historic Athenian neighborhood
Kaisariani
. Making her living singing in a Bouzouki club at night, she fell in love with Greek music. The song is written as a
Zeibekiko
, one of the important
Rembetiko
song forms introduced to Greece by refugees from Asia Minor who had settled in
Kaisariani
.
-
"Danger Be Damned"
. Despite the title a light-hearted song, again with accordion: "The boys are coming from Astoria / Strike up the band / carnations and a white gardenia."
-
"Ladri Di Biciclette"
. "Bicycle Thieves" is an energetic Pink Martini-
esque
story song about a chain of loved, lost and / or stolen bicycles, composed in an Italian 'pizzica' style - and of course the title was 'stolen' from the classic Vittorio De
Sica
film.
-
"Una Promesa"
. The album concludes with this stunning Spanish ballad, co-written by Alex Alexander, adorned by woodwinds, paying tribute to Gabriel
García
Márquez
. A cautionary tale about: "All the tender words we never speak / are the ones that we regret / All the promises we couldn't keep / are the hardest to forget".
Let Amanda take you by the hand for an unforgettable adventure and dance with her around the world!
-----

Written & compiled by
Johanna J. Bodde
- September 7th, 2014.
Thanks to publicist
Bernadette Quigley
for the excellent info sheet!