STEVE MCCORMICK
talks about
"Lowlights and Footnotes"
(Independent)
Writing and recording an album at home with no assistance, other than from my tolerant girlfriend suffering repeated playbacks of it, isn't an easy task. Getting to grips with new technology, remedying acoustic problems, moving house and reassembling the studio (the album was recorded entirely at home), topped off by working full time, meant that the recording of 'Lowlights and Footnotes' took around 2 years from inception to completion. That's not to mention finances and personal circumstances that led to a total stand-still of over six months during this period. Finally, though, the album was completed and mastered in September 2008.

As a solo artist without management or record company support, I soon realised that, to take this business seriously, I had a lot of work to do: write the songs; record them; mix them; design and maintain a website; design layouts for the album artwork; promotional work, etc. I also sang, played acoustic and electric guitars, banjo, mandolin, lap steel and bass guitar. The drums were programmed in EZ Drummer and are, I feel, indistinguishable from a real drummer. The only things I didn't do during the recording of 'Lowlights and Footnotes' were play pedal steel and mastering. The former was taken care of by a friend, Dave Midgley, a former semi-pro with a wealth of experience touring Europe, etc.; for the latter, I turned to Simon Heyworth, of Super Audio Mastering, a man with the experience of co-producing Mike Oldfield's 'Tubular Bells' and handling the mastering for a diverse range of artists including George Harrison and Nick Drake.
ANOTHER ENGLISH COWBOY
This song was mostly inspired by a night spent in a country and western club in Glasgow, where I first experienced the peculiar phenomenon of grown men dressing up as cowboys and having cap gun quick draws. Each to their own, I guess, but the 'closing ceremony' of the American Trilogy was just too much for me to take! Having been pelted with beer mats and ice cubes on stage (back in my heavy metal days), there's a little of that experience in there too. It's also about the desire to distance myself from Brits that insist on wearing Stetsons and singing in awful fake American accents. Although it's difficult to completely avoid Americanisms, I can't comprehend doing it deliberately.
IF ONLY SHE WERE LYING
I'd been listening to stuff like Vieux Farka Touré, Justin Adams and Tinariwen quite a lot when I wrote the guitar part for this, and. although I'm not suggesting it sounds like any of them, it set me down a different track to anything else I'd recorded. It was actually the last song written for the album and it's a sound I'd like to explore more. It's really about denial, even when you know the truth is too obvious to be ignored, but it's certainly not autobiographical, however tempted I might have been to dress in my girlfriend's clothes!
MAKING LIGHT (OF BEING KEPT IN THE DARK)
It's a simple story of a guy doing his best to dismiss the cold hard evidence that his wife is out doing lord knows what and not even coming home while he sits at home alone. The title came first for this song and the words grew out of it. I sent a rough early version to the Nashville Songwriters Association International for critique and was disappointed to hear that the reviewer didn't understand the title, so maybe it's a British thing. Although they're not a band I've listened to a great deal, it has had a number of comparisons to The Eagles.
I'M ALRIGHT, JACK
A friend was mocking the stereotypical country lyric where the singers wife has left him, etc. so I decided to turn the viewpoint around so I was singing about the misfortunes of other people while everything is going swimmingly for me. My mother always used to use the phrase 'I'm Alright, Jack' and it was a natural fit.
THAT GIRL WAS GONNA MAKE ME RICH
This song came out of the idea that some people will do or tolerate anything for money, although I couldn't possibly allow the protagonist to achieve his desires – he had to have his comeuppance! I like the fact that the chord progressions, while very simple in the verses, go off on a bit of an unpredictable wander for the chorus and the middle eight. The original draft of this song had a completely different backing track, very minor key, downbeat and moody. After being unequivocally informed by my girlfriend that it was rubbish, I reluctantly, but wisely, went back to the drawing board and came up with a much more appropriate backing for the tongue-in-cheek lyric.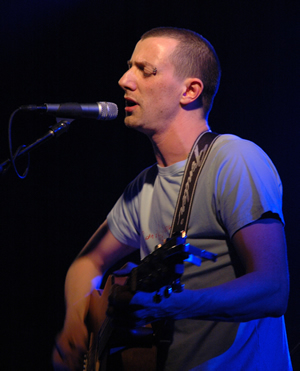 BACK ON THE BOOZE
I'd been listening to a lot of '50's rock 'n' roll when I wrote this song and wanted to capture the spirit of some of that music. The fact that it takes a detour down a totally different road for the middle section and has a solo that I like to think would fit nicely on an early AC/DC album is beside the point! When I write, I don't slavishly stick to tried-and-tested formulas. I like to feel free to have little bit of fun with the songs and do something a little unexpected.
THE OTHER MAN
I liked the idea of a song about cheating but with a bit of a twist, and it also works as a companion to 'Making Light'. The one thing I wanted to portray was the sordid reality of an affair, rather than dancing around the subject or dressing it up as glamorous. Having played in a variety of bands, playing a number of styles, it's only in the last few years that I've embraced the story song. Often in the past, I lazily hid behind obscure lyrics that I could explain away as complex metaphors but, and this isn't to say that I want to spoon-feed the audience, I want people to be able to know exactly where I'm coming from, to take meaning from my songs without requiring a degree in English literature.
BREAKING HEARTS
Although the first draft of this song was inspired by a friend's caddish behavior, it was never about him. It is, though, a very simple story about the kind of guy who thinks he's God's gift to women and that the whole world revolves around him. They say you reap what you sow in this life and that so often that turns out to be true.
MY WOMAN DOESN'T GIVE A DAMN
Although there might subconsciously be elements of people I've known, it strikes me as callous to try to get back at somebody in a song, it would be unfair, and totally untrue, to attribute the inspiration for this song to an ex, however amusing or tempting that might be! The essence of the lyric comes from the times I've sat in a restaurant or pub and watched the sad scene of a couple sat in silence, with nothing to say to each other, even though you know there must have been something between them once upon a time.
BLACK AND WHITE PHOTOGRAPHS
This was pretty much the song that set me off on the path of story songs. It was, as much as anything, an experiment in trying to capture imagery and atmosphere, and I like to think it was successful. While I feel this song helped to form a blueprint of sorts, that's not to say that I want to fall into the trap of writing the same song over and over again. When I first wrote this and played it to a friend, he told me it was the best song I'd written and that it sent shivers up his spine. When he heard the original recorded arrangement, with its rather cheesy sound of upbeat drums and slide guitar, he was gutted. After some time being attached to that early version, I relented and stripped away the cr*p to how it was written – acoustic guitar and vocals.
INNOCENT PLACE
I'll often argue that my songs aren't autobiographical, and they're never intended to be, but sometimes my subconscious pokes its head above the parapet without me noticing, and I guess this is one of those times. The first couple of verses ring true with my younger days, however, it should be pointed out, I have no children and haven't murdered anybody in desperation! This is definitely the darkest song on the album, both lyrically and musically, and one of only two on the album based around minor chords. For me, this is the highlight of Dave's pedal steel playing.
LIVING IN LOSERVILLE
Lyrically, this is definitely the most throw-away song on the album, although that's not to say I don't like it. It's literally three chords, which is something I often struggle to do - adding at least a fourth chord is usually too tempting! This time I let the melody do the work. At the time of writing the song, the under-rated Moot Davis' debut album had been on regular rotation and definitely inspired the more upbeat feel. I just imagined a guy living in a little shack on his own, with no friends or loved ones, but totally accepting of his fate.
I've no idea what will happen now that the album is released as, in many ways, it's now that the real work starts. I've proven to myself with this album that I already have the appetite for hard work and I'm already working on ideas and songs for a second album, as I have no intention of just sitting on the fact that I've finished this one.
Whatever happens from here, I'm proud to have actually finished a professional album. If I were planning a family (which I'm not), I'd say that it's one for the grandkids if nothing else!
=====